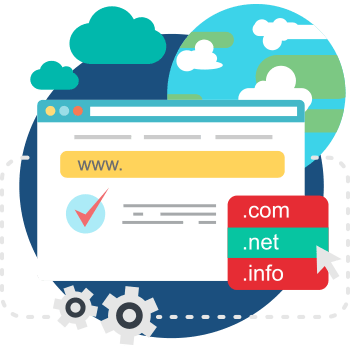 Domain Name Registration is the first step to kick off your online presence. The first initial step is to find out the availability of domain names of choice, Dream Wizardz gives you suggestions for Domain Names in case you are not able to find your domain name do give us a call or email us and we will help you out.
The Domain name is an extremely valuable asset, it is important that domain names should be entrusted to the company having a reliable and consistent track-record. We offer you Free 2 free Emails with every domain registration.
Features of our Domain Registration Service
Email Accounts
Get two Email Addresses such as mail@yourdomain.com along with free fraud, spam and virus protection.
DNS Management
Free DNS service which allows you to manage your DNS records for your domain.
Domain Control Panel
You can manage your domain names, configure email accounts, renew your domain name and buy more services directly.
Bulk Orders
Use the bulk tool to help you Register, Renew, Transfer and make other changes to multiple Domain Names in a single click.
Theft Protection
Get security for your Domain name from being transferred out accidentally or without your permission with our free Domain Theft service.
Email Forwarding
Create free email forwards and redirect your email to any existing email accounts.